About This Test
Tired of dieting and getting nowhere? Dreading the scales? Believe it or not, genetics and your diet go hand in hand! If you have had trouble losing weight or keeping the weight off, there might be an underlying cause in your genetic markers. The diet and nutrition DNA test can assist you in understanding why you can't keep off those extra pounds or reach your target weight.

Test Results
This test is designed to help you look closely at your regular food intake, understand the interaction between what you eat and your genetic makeup and provide a recommended diet plan that can help you reach your goals.
When you get your results from the test you will get answers to the questions that have been plaguing you for a while now. You will discover:
Your body's metabolism rates, based on your genetic profile. Having this information is extremely important in helping you reach your weight loss goals.
A sheet that discusses what kind of exercise routine works best for your body. Everyone is set up a little differently, so you need to adjust to that with your workout routine.
Whether your body responds well to a certain type of exercise.
Results also list food allergies detected during your testing. Some people have had intolerance to foods for year totally unaware of this important fact.
You will also learn about certain genes and how they affect your eating behavior and thought process when it comes to certain foods. For example, can you snack all day, but never get that satisfaction of being full – how would one best tackles this?
View a sample result by clicking the below image: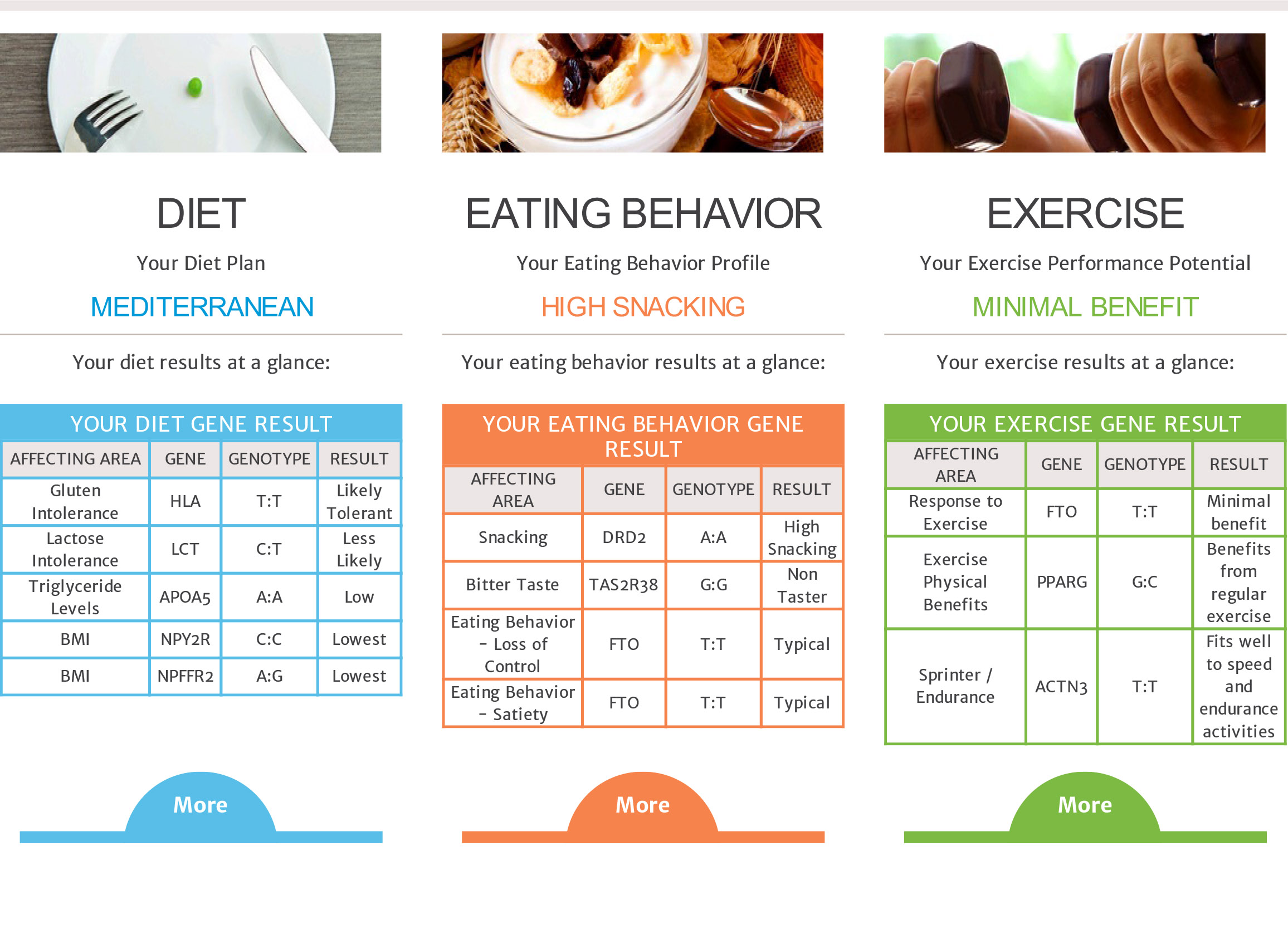 Inside the Test Kit
Once you order the diet and nutrition DNA test you will receive a kit in the mail that includes the following:
2x mouth swabs (both are used for the same person)
Instructions on collecting and sending samples
Pre-addressed envelope so that you can return your samples
All you need to do is follow the simple instructions and rub the mouth swabs inside your cheek for a few seconds. Once you have your DNA on the swabs, give them a moment to dry to prevent cross contamination during shipping. After they have dried put them back in the prepaid envelope and get it shipped back to us for analysis. We will get results back to you in about 4-8 weeks after we receive your samples in the mail. This diet and nutrition DNA test is a great value for people who are looking to live a healthier lifestyle but having trouble seeing results.
Why not consult a genetic counsellor about your results?
Our genetic counsellor is ideal if you have any concerns about your DNA test results. They can understand and interpret all aspects of your DNA test results, helping you maximize your own wellbeing and that of your relative. Genetic counselling is ideal in cases where you opt for a clinical test or health test but you can also consult our counsellor for any other test including parentage testing, prenatal testing and relationship testing. Genetic counselling is available at an additional fee.